Pre-Analyze
Capability of pre-analyzing your customers in aspects of buying power and housing conditions, Black Book or KBB current vehicle values is where PurlPromo truly shines. All the analysis can be done even before you get your first contact with them, which will help you a lot to identify potential customers and take effective communications.
Check the Credit Rang of the Visitors to Identify their Buying Power
Cooperated with credit bureaus of Experian, Equifax and TransUnion and our system automatically communicating with a server connected with them, you can get to know your customer¡¯s credit range while they register at the Personalized Landing Page. You can even receive an instant email or text message notifying that you get a hot one, no guessing work of their buying power anymore, identify them before you make contact with them.
Get the Most Accurate Information of Visitor¡¯s House and its Value
Our platform holds the most up-to-date and accurate information on 134,000,000 properties covering 94% of the US population... And it is growing. If you are a home retailer, home service provider, mortgage company worker, and any business that related to house and deals with home owner, you will carry out a much more successful marketing event with the aid of this information.
The information you will get is as below.
Owner Status Information:
Owner Occupied
Owner Name(s) Physical Information:
Lot Size-Livable Sq. Ft.-Total Number of Rooms
Total Number of Bedrooms-Total Number of Bathrooms
Year Built-Building Type (SFDU/Condo/Multi-Family)- Purchase Date
Financial Information:
Home Value- Loan to Value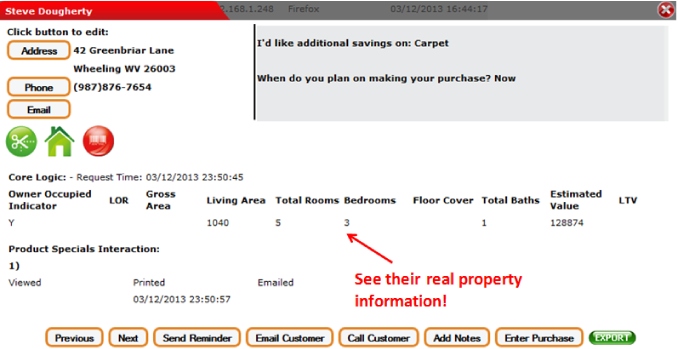 Find Detailed Personal Information of the Automatic Owner
Activate our Polk Scoring System, you and/ or your employees will receive automatic emails and/ or text messages instantly after each good match is made. Customer information can be entered by the customer via an email campaign, website, or in-store kiosk, or your employee can enter the customer¡¯s information from any computer connected to the internet.
The information you will get is as below.

Let the Customers be Informed of their Current Vehicle Value
Communicating with Black Book via a web transfer, you and your customers will get the real-time value of their current vehicles online after filling some vehicle information. You can quickly access customer information and their vehicle condition as well. The customer will have a certificate in hand with the value of their current vehicle and it is up to you to control what vehicle value is portrayed on the certificate or show a range of values. Want to add some additional power to your next PURL campaign, contact us for detailed information.